HEALTH HEADLINER - MEREDITH KLEIN: AYURVEDIC CHEF/ AUTHOR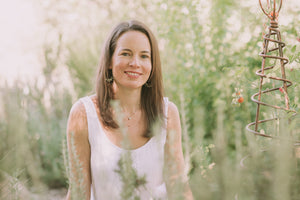 Meredith Klein of Pranaful.com
Ayurvedic Chef, Author and Lover or Ayurveda 
A Note from our founder, Andrea Shuman:
I was fortunate to be introduced to Mer through well respected mutual friends in the Ayurveda community. Mer makes some of the most creative, delicious and awe-inspiring ayurvedic dishes I have ever seen. Their simplicity, well balanced tastes and adherence to Ayurvedic principles is truly a wonder. I highly recommend you try anything she creates.You can buy her book, Kitchen Ritual, Here ! As a teaser, please try her recipe for Mung Dahl Tadka, that she has generously shared with us. 
Meredith is running her yearly Spring Ayurvedic Food Cleanse April 5th through the 15th 2021. For 10% off your cleanse with Meredith, use code AHARA10 at checkout~ 
We, at Ahara Ghee, recommend a digestive reset each spring and fall. When we worked with our clients, we noticed that some of the most challenging aspects for people was the cooking. They thought it was too hard, or would take too long. Meredith deeply understands Ayurvedic Cooking and her love and grace in its teachings are the perfect inspiration. We highly recommend you join her for this Spring Reset and get ready to rock 2021!
In-Service,
Andrea
A Passion for Healthy, Mindful Eating & Ayurveda
Meredith Klein, the founder of Pranaful, is a Los Angeles-based private chef and Ayurvedic Health Counselor who is passionate about helping individuals experience radical transformation through the practices of meditation and healthy, mindful eating. She creates internationally-inspired, Ayurvedically-influenced organic cuisine, and offers workshops and retreats in addition to 1-on-1 consultations.
Meredith's food is regularly showcased at yoga and mindful living events across the country. She provides food for private parties and events in addition to offering personal chef services. Meredith has taught classes and workshops at Google's Los Angeles office, festivals including Wanderlust and Lightning in a Bottle, UCLA, and UC-Berkeley, in addition to offering her own cooking retreats. She is the creator of an award-winning organic vegan frozen yogurt, and has consulted with other restaurants and cafes in Los Angeles for the design of healthy vegan and vegetarian menu options.
Meredith is the author of Kitchen Ritual: Recipes to Inspire the Art & Practice of Mindful Cooking, and her recipes are also featured in the book by Wanderlust founder Jeff Krasno, Find Your True Fork.
A student of Zen Master Thich Nhat Hanh, Meredith teaches meditation at retreats and workshops, in addition to offering mindfulness-based life coaching.
An avid yoga practitioner, Meredith cultivates the same sense of mindfulness and meditation she experiences on her yoga mat in her culinary endeavors. Through her keen interest in and study of Ayurveda, she integrates ancient healing principles into her menu design. She has, likewise, been influenced in the kitchen by Buddhist teachings transmitted by her primary teacher, Thich Nhat Hanh, and through her studies with Zen chef and monk Edward Espe Brown. Meredith is a member of The Center for Mindful Eating, and is an ordained member of the Order of Interbeing, Thich Nhat Hanh's core community of lay practitioners.
Along with her skills in the kitchen, Meredith brings to the table a keen business sensibility, after having spent nearly a decade in human resources and management consulting, working with some of the world's largest and most innovative companies. Meredith enjoys taking her passions into corporate settings, offering workshops on mindfulness and mindful eating at companies around Los Angeles, including Google and other smaller technology start-ups.
In addition to her professional work, Meredith shares her love of yoga and meditation with underserved communities in the Los Angeles area. She currently coordinates a group of practitioners who offer mindfulness practice in the L.A. County juvenile hall, in addition to serving as an advisor for Green Tree Yoga & Meditation Foundation in South Los Angeles, a studio that aims to dissolve barriers to access for quality yoga instruction.
Meredith regularly teaches about Ayurveda and nutrition for various yoga teacher trainings, including the B. Free Hot Yoga Training, Soulplay Yoga, and Green Tree Yoga & Meditation's 200-hour training program, and also is on the staff of Shakti School, Katie Silcox's online Ayurveda program.
The Longer Story
Meredith's culinary adventures began at an early age when she spent evenings in the kitchen with her mother while she prepared elaborate family meals. By the age of eight, she was rising before the rest of her family on weekends so that she could work solo in the kitchen and prepare breakfasts on her own.
Meredith's passion for cooking was reignited in 2006, when she found herself unfulfilled pursuing a PhD in Sociology. Each day, while sequestered in the library for hours, all she looked forward to was going home to cook on her rustic Wedgwood stove. After vitamin deficiencies led to a series of illnesses, she adopted a vegan diet and began to study nutrition, an exploration that continues to this day.
The most transformational moment in Meredith's relationship with food occurred in 2007 at the Burning Man festival in Nevada. When greeted by a group of exuberant Hare Krishna followers in the midst of the late-night revelry, offering bountiful helpings of warm, aromatic food and steaming chai, Meredith initially eschewed the food because it was not vegan, even though she was, in fact, hungry. Soon after, she had a heart-opening and life-changing awakening, from which she vowed to always be open to receiving food prepared with love, a message that provides the foundation for her work as a nutritionist and chef.
Shortly after her experience, Meredith left graduate school to devote more time and energy to her love of food. She launched her catering operation and began cooking for yoga and meditation retreats around California, in addition to offering personal chef services and cooking instruction. Since then, she has studied food preparation techniques with acclaimed chefs around California, and gained knowledge and experience as a culinary assistant at the Berkeley-based culinary school Kitchen on Fire.
Meredith has been fortunate to study Ayurveda with numerous teachers over the years including Robert Svoboda (Ayurvedic Institute), Mary Thompson (CA College of Ayurveda), Dr. Siva Mohan, and many others.
Leave a comment
Comments will be approved before showing up.