HEALTH HEADLINER - Aparna Khanolkar Ayurvedic Chef and Counselor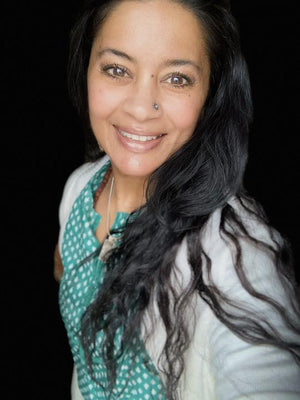 Note from our founder:
I was introduced to Aparna's work and recipes through a late great teacher, Ysha Oakes of Sacred Window School. In my post graduate Ayurvedic learning, I delved deep into postpartum care and cooking through an Ayruvedic lens. As I progressed through the course, many foods were made and served. So many of these recipes came through Aparna and her own family traditions. Never having even met her, I had a viceral experience, both making dishes inspired by or offered from her cooking, and having them made for me, when I had my own babies. Aparna has journeyed from restauranteur to private practitioner and is now making beautiful handcrafted Ayurvedic Body and Facial products on her site @pureishvari.com. I could not encapsulate her beautiful story better than she can, so I will leave you with her words and journey. 
Blessings,
Andrea
See original blog on her site here:
My path is to guide people to release all that is hindering the embodiment of joy, fulfillment and divinity from within.

"A joyful human being is sensual, nurturing, warm, powerful, graceful, intuitive, self-contained and masterful in being the architect of her life. Not swayed by mass consciousness, she willingly sacrifices her limitations for the infinite grace that she is."

Using the breath, the body and consciousness practices as tools, I guide my private clients in releasing layers of old emotional toxins trapped in the energy body. To enter the state of joy and contentment, forgiveness is cultivated and, a return to a state of wonder and innocence is practiced. Honoring ancient rituals of self-care, aligning with Nature's rhythms, cultivating tenderness in the heart center and experiencing the non-dual nature of existence is my personal life path, which organically spills over into my work with clients.

A former chef of the Chopra Center for Well-Being, in San Diego, I have been a Vedic Chef for nearly 20 years and have author of three cookbooks. I have been a postpartum doula in the Ayurvedic tradition for over 15 years and have served mothers in Ann Arbor, Mi, as well as Encinitas and Santa Barbara, Ca. I am the creator of Pure Ishvari, an Ayurvedic skincare line that uses only pure organic Ayurvedic herbs in products while using ancient Ayurvedic preparation techniques. I am certified Heart-Based Meditation instructor and Spiritual Mentor.  
Although I will remain a lifelong student of mysticism, Ayurveda and consciousness, my formal studies are with New World Ayurveda, American Institute of Vedic Studies and Vyoma Ayurveda Academy.

My work and teachings are primarily influenced by Sadhguru and Dr. Paul Dugliss

I have been infinitely blessed by their grace, wisdom and teachings and strive to share it with my clients.

MY STORY
Even as a young girl in India, my interest was in Nature, life and death and I suffered my own sensitivity in everyday life. According to my mother, I came in bawling and only stopped crying now and then during much of my childhood. That is my recollection too for I know that the heaviness of my heart and all the "stuff of life" I had come to work through was weighing me down.

I am grateful that my parents did not get me diagnosed as depressed but let me spend adequate hours in our large garden every day. I sat on mango tree branches and read Tagore poems and novels. I watched the stream of dishwater that flowed down to the banana and coconut trees as my mother prepared meals in the kitchen.
Time went by as aI became a young woman and moved to the U.S.

A Health Challenge and Healing Opportunity
18 years ago I was sitting at the natural doctor's office with my beautiful one-year-old son in my lap. The doctor was examining my medical records for a mysterious tumor on my thyroid.

At the age of 30, I was terrified that something awful was wrong in my body and that I may die early and miss being with my son.

My father had passed a year before quite suddenly and my mother had emergency surgery only recently. Facing the death of a parent is a huge step in one's evolution. Mortality is sobering.

The pain of loss and the exquisite pleasure and joy of being human had already polished me some.

Now I sat watching this kind and caring doctor read my biopsy and blood work results as my mind wandered to the worst case scenario. Although I knew the tumor was benign, I also knew that it was a clear sign of stagnation and imbalance. I could not fathom why I would develop a tumor despite my healthy eating habits.

The doctor reassured me that I was going to be ok, prescribed supplements and suggested that I move the stuck energy in my throat chakra and practice yoga.

A burning question arose from a deep restlessness that was causing an internal fire. I said, "I am struggling with the purpose of my life. I'm not sure what it is. Being a mother is taking so much of time each day."

Without even needing to think of an answer, the doctor replied: "Your purpose is sitting on your lap," - pointing to my son. It was the perfect answer and re-direction.

Whatever had led me to look for some greater purpose had been easily re-directed to was right in front of me.

In so many ways, this was the beginning of my embodying feminine principles. It was all here – within me and in my relationship to my child. I employed my fierce determination to heal the tumor on my terms – with food, yogic practices, and diving into my motherhood. I confidently threw away the prescription for thyroid medication. I knew something deeper needed healing and releasing and it could not be done with a pill.

I refined my eating habits with fervor and began practicing asana and learning about energy and chakras. I made fresh juice twice a day, took enzymes to enhance digestion.

By design, often the process of life does not clue you into the steps one must take to grow, heal and evolve. If we knew, we may choose not to walk this path that demands sacrifice from us and for us.
Three months later, the tumor vanished. I never had to take prescription medication and went on to give birth to a beautiful baby girl three years later despite the prediction that I wouldn't be able to conceive because of the tumor.

When my son was two and a half years old, we moved to Ann Arbor, MI where I trained to be a doula. My choice to have a natural childbirth with my son was such a powerful experience that I wanted to work with women during their postpartum time.

After the training, I decided to bring many of the nourishing Ayurvedic practices from India into my own. Thus began my work in nurturing women, teaching self-care and awakening to my own deep transformation.
I met Dr. Paul Dugliss in 2005 in Ann Arbor. Most of my professional knowledge and training comes from my direct experiences with him. There are evolved beings that are here to help us grow with great care and nurturance. Dr. Dugliss remains that being for me. To have a mentor and teacher that supports inner development with utmost honor and respect is a tremendous blessing. 

Life led me down meandering paths always for my highest good, ensuring that I was learning lessons and growing. Many of these lessons were hard to learn mostly because my ego was not able to yield yet. Aspects within me that hindered the awareness of joy and vibrancy built up over the decades.
Fear is a great friend and foe. I held so tightly to my fears, making them true and created great suffering for myself. The tumor had been an incredible wake-up call but only a tiny one compared to challenges I was to face in the coming years.



Without my conscious knowledge, all this inner friction was preparing me for someone big.
When the student is ready, the teacher appears.




One morning I saw an invite to meet in person a man who I had been following with devotion and intrigue for some time. I could not believe my eyes so I read the invitation two more times. I was going to meet Sadhguru Jaggi Vasudev in an intimate house event! I had successfully avoided gurus, teachers and such for decades, but now I was ready. He had arrived.

I was able to arrange to cook a meal for him. Through some mysterious miscommunications I ended up not serving him the meal, but this actually created an opportunity for personal time with him.

Without diluting my powerful experience with him, I will say that I was given  lessons on spiritual responsibility and karma. First and foremost, he told me that I was fully responsible for everything in my life. Therefore, I was the architect of my own karma. Secondly, I no longer was a victim of my karma as long as I took responsibility for it. It was a moment of truth which terrified and excited me simultaneously.

Soon after this experience, I went to India and spent time at my teacher's ashram where I had an epiphany at the Dhyanalinga Temple. I declared that I was surrendering everything that was in the way of a limitless life.



Upon my return, my life turned upside down.



I knew as it was happening that this was for my highest good. For one year, I allowed everything to be re-arranged inside and out.

Suffering is a great impetus for transformation. I have had an unwavering desire to grow, awaken and heal myself and have the same passion to see my clients as healed, awakened and joyful.

This is a journey that I have no desire to ever abandon.

The trajectory of the higher self is unstoppable.
This is my life and therefore my work.
Leave a comment
Comments will be approved before showing up.