Sarasvati Ayurveda Institute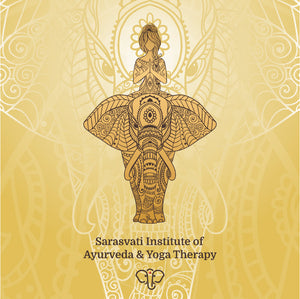 Note from our Founder: 
The Sarasvati Institute of Ayurveda and Yoga Therapy did not exist when I was choosing Ayurvedic schools, back in the early aughts, but this one would have definitely been on the short list. Susan Bass is one of the more intentional and respectful American stewards of this medicine, that I have met, and her studies and teachings stick closely to tradition while embracing the global online format, which extends these teachings around the world. She endeavors to teach traditional Ayurveda while working with Western culture and mind concerns, which elevates the Ayurvedic principle of "Satmya", or "honoring the practices of ones own culture and heritage while applying Ayurvedic Principles. The Sarasvati Institute is located in Portland, Oregon but offers programs 100% online.  Only those students that exceed the online curricula need concern themselves with travel, as her most advanced students practice with her in person.  If you are looking at Ayurvedic education, we highly suggest you explore these offerings which will benefit both the aspiring professional as well as the humble student practitioner. 
Blessings on your journey,
Andrea
SARASVATI INSTITUTE CORE VALUES
We fully embrace both the spiritual roots of Ayurveda and the additions of modern science. Our classes as equal parts spirituality and western physiology.
Our mission is to preserve the ancient wisdom and sacred ethos of Ayurveda. Our teachers come from a lineage of ancient masters who provide the support and guidance to develop a true understanding of Ayurveda.
At its essence, Ayurveda it is a way of life. Our curriculum is primarily focused on the integration of the Vedic concepts at a cellular level. Our goal is to create an environment that guides the students into embodiment of Ayurveda and Yoga as well as teaching practical and natural solutions to everyday problems as laid out in the Vedic texts.
About the institute
The Sarasvati Institute's faculty boasts teachers from all over the world, including influential teachers in Vedic Philosophy, Ayurvedic cooking and Sanskrit from India as well as a Registered Nurse and MD who are graduates of the Sarasvati program, which bring an East-West integration into the school. 
The Sarasvati Institute offers NAMA (National Ayurvedic Medical Association), Yoga Alliance and (IAYT) International Association of Yoga Therapists certifications.
Certification Level 1 Foundations Course is offered online through rolling admissions. You can join in any month. This program covers the foundations of Ayurveda and Ayurvedic Yoga Therapy, where you will learn from basics to practice. 
Certification Level 2 is where your practitioner skills will be developed, while you immerse in yoga therapy and diagnostics. This is a 3-year program designed for a fully rounded Ayurvedic Education.
While not advertised on the site, this education extends post-graduate for certain committed students. 
Ahara Rasa Ghee recommends Sarasvati Institute, wholeheartedly as a wonderful option to get started with your personal and professional Ayurvedic education. 
Check out our Health Headliner and owner of the School, Susan Bass and learn about Ayurvedic Fall cleansing here: