On Losing half my finger....by Martin Lemke, Co-Owner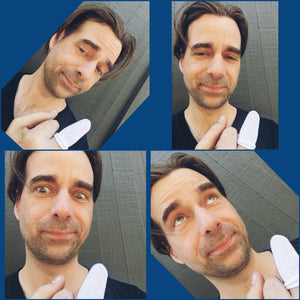 A note from our Founder, Andrea Shuman
Ahara Ghee is founded and owned by 2 Ayurvedic Practitioners who met in school. I, Andrea, usually am the one writing, sharing our sales and our dreams and musings with you. About 6 weeks ago, our company went through a scary thing: While consulting for another food company, my co-owner and better half, Martin Lemke, lost the better half of his middle finger. As a result, our shipping slowed down and we were out of some things for a minute. The accident happened just a few short days before we reloacted into our newly built kitchen, making the timing all the more challenging. All, however, was not lost. I am handing Martin the mic to talk about what he learned in the process and to share how we recovered and are restarting your fast shipping and getting back on our feet!
Much Love,
Andrea
On losing half my finger, and Finding my center
 Life: It can be exciting, but exciting is not always what you want. While working on a different project, I had a very serious hand injury and it's lead to epiphanies, optimizations and reality-checks. 
It's nice to officially meet you!  My name is Martin Lemke, and if you've bought our ghee in the last few years it is highly likely that I made that ghee,  in some way, shape, or form. One amazing thing about Portland is that there are so many makers, artisans, cooks, and mad-food-scientists, so I tend to have my arms around a few pots at a time, and sometimes I consult for other small Portland-based food makers. 
I will spare you the gory details, but, while using a soon-to-be-retired machine, I made a split second decision in the wrong direction. It took just a fraction of a second to realize the reality of the fragility of the human body, and also the strength one can summon when faced with their own literal flesh and bone. 
It's been a path of rehabilitation that is going well and honestly, has been endlessly fascinating. I've gotten to know my body and mind more deeply and put all manner of Ayurvedic knowledge into practice; From food to herbs to meditation, which has been the backbone of my personal healing. 
"When I was in the ER, the nurse, departing from her usual gallows humor, shared with me how many times she witnesses the reality that life can change in an instant. "
When I look back there are a few core lessons or maybe clear reminders that I see. We have a tendency to act as if nothing can change, sometimes it's our greatest source of struggle with different parts of our life. But, the reality is that our life can change abruptly at almost any time, and it doesn't have to be through some kind of trauma. It can simply be on the level of choice, if we desire it. Our identities can easily get tied into day to day tasks, that feel role-defining and results based. Losing this option can feel ungrounding. It's much more clear now, however, that others relate to me based on who I AM rather than what I DO. 
I am grateful that:
I still have my hand and people to support me through my work

The system to support me through this, through western medicine and those who work in it aiding in my recovery

I have a solid meditation practice, and knowledge base to start my healing from

That I have been so supported by others in the industry and by perfect strangers, at a time that I have needed it. 
Lastly, I've gained a much deeper appreciation for those living with chronic pain. Pain can make it nearly impossible to concentrate and incredibly difficult to keep an emotional balance. Also, it takes so much energy just to cope and heal. If anyone is reading this who manages chronic pain, I am in awe of your fortitude. 
 I'm doing a lot better now. There is still some more rehabilitation to be done, but I am on a clear path.  Thank you everyone for supporting our company and enjoying our ghee, as always made with mantra and love. You've been supporting us through this, and I hope it's been delicious. You may have noticed that shipping times have been stretched and some errors were made in orders. We want to reassure you that we have taken this opportunity to streamline the system and get our friends at Pure Traditions to take on our shipping (THANKS GUYS!). 
We greatly appreciate your patience. As a small company, these life-turns can be devastating. With the support of other small businesses and our community, we are healing and ready to get you your ghee in the speedy and consistent manner you have become accustomed to. 
Although I wouldn't recommend it, the whole journey has been incredibly fascinating and has been such a great opportunity to see my own incredible body in healing action! 
Thanks for reading and take care,
In Service,
Martin Lemke
Co-Founder/Owner
1 Response
Leave a comment
Comments will be approved before showing up.
---
Also in AHARA NEWS AND MUSE-INGS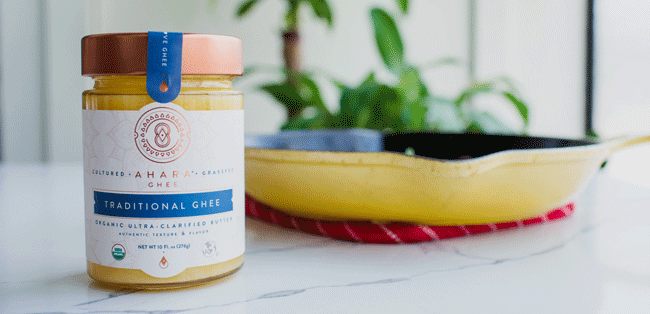 Hello from the new owners of Ahara Rasa Ghee!